How I do it?!
Now, I know everyone has different shopping techniques, stores they covet, and one's they stay away from. I almost never buy something full price, I honestly can't remember the last thing I bought full price, but I also won't buy bad quality or downright ugly styles. I know you probably think this just isn't possible but somehow I manage to have quantity and
quality.
Personally, I think quality has become very cheap all around for what is in my price range at the moment. I still always manage to buy in-season pieces that are lovely, or at least I think so! Anyways, this is my basic shopping know-how.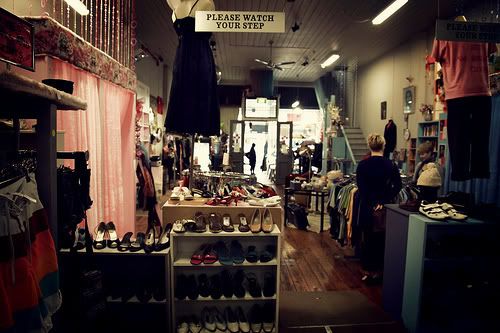 General Shopping Tips
Know the return policy! Whether it's online or in-store, ask before you buy!!
Shop often. Once every two weeks I will go to the mall and in between that I go to stand alone stores.
Take your time, rushing will only make you frustrated, allow yourself to try on the items. I can't tell you how many times I've had an armful clothes and have come out with nothing, but that is better then taking it home for something important and hating it with no time to get something else.
Try on other styles and colors, a shirt hanging on a hanger is not going to tell you how it will look on you. Options are there for a reason, and many stores now allow you to get items shipped to the store for free, talk about convenience!
Think about how much you would pay for a particular item, look at the quality of the item, think about how much it is worth to you. If the actual price exceeds what you would pay by $10 or more, put it back.
Think about ways to wear the item, what does it go with that you already own? If you have to buy more then one thing to make it work in your wardrobe (example shoes and a belt), put it back.
If you aren't sure about what you would wear it with, make sure the item is returnable, buy it to see how it work with accessories you already have. If it doesn't then return it.
Give yourself good shopping karma, if you have a coupon and you don't use it, hand it off to another customer or give it to an employee to give to the next customer they cash out! You will make someone very happy! :)
Save your receipt, if an item shrinks after you wash it, some stores will return or exchange the item.
Online shopping: don't even look until you know the cost of shipping and the return policy. Some physical stores do not allow returns from their online counterparts.
People think the clearance is the unwanted items, some of it is, but most of it is not. I like what I wear I think I have some pretty unique and interesting pieces (which you can see here) and it all came from clearance! My general thinking is that if a store is willing to mark down to 80% off at some point I'm gonna wait till then, and if it's not there, then too many people are already wearing it, and I hate being a "twinsie!"
Shopping on a Budget
Again, check the return policy and save your receipt. Staple the receipt to the price tag, give yourself two weeks to wear the item, if you haven't, take it back.
Utilize a store's hold policy, most will hold an item until they close, but some hold a full 24 hours. Once you have checked out other stores, if there is nothing better you want, go back for it.
When time allows, shop the mall once with no wallet, lock it in your trunk. When you get back to your car, if something is still on your mind go back. This will really cut down on impulse buys. This will also help you get down and dirty searching because you don't have a bag weighing you down!
Shop alone or with some on a similar budget, going to the mall with the girl that has a card for every mall store won't help.
Consider applying for a store credit card, make sure it is only for that particular store (it won't have a Visa or MC logo). If you frequent that store you will get great benefits, from my experience, I have literally been "paid" to shop.
If your shopping for things you need allot money in separate envelopes, when you're done, if there's any money left over, buy something cute! This way you will get the essentials!
Look for unique accessories at consignment shops, thrift stores, and yard sales. I tend to stay away from the clothes in general because around here, anyways, no one gives up the good stuff, but check out clothes for interesting buttons! Rework buttons and pins into necklaces or rework a jacket with new "vintage" buttons!
Work on building your accessory stash, nothing makes an outfit look new like a statement necklace or a scarf.
Start using twitter, Facebook, mobile alerts (texts) and mailing lists to get coupons! I use all four and get the deals!! Best part? You can forward most electronic coupons to your friends, especially text messages, which is great because then you can both get a deal!
What are some shopping tricks and tips you use?
How do you stay on budget, especially with a new season approaching?
xo Camille
*picture from google. I'm not a finical advisor, this is just my experience, opening a credit card is serious business, be cautious and read all of the rules!