This past weekend I visited NYC for the International Makeup Artist Trade Show (IMATS) and since I knew at one point I would be lugging my luggage around I made a point to pack light (
see this post
). In One carry on I packed 9 pieces of clothing, 3 pairs of shoes, 1 pair of pajamas, undergarments, accessory bag, makeup bag, toiletries and my laptop and case! This is the outcome of my 'experiment':
Day 1: Travel
I needed an outfit that would keep me warm, but that could also adapt to the weather. These layers worked perfect! Sitting on a bus for 5 hours, you want to make sure you're comfortable, too. The leather jacket was the perfect piece for this particular weather, it was a low of 60 degrees at night! The Cheetah print loafers were a bit of risk because this was the first time I wore them, but they turned out to be probably the most comfortable pair of shoes I've ever worn. I am definitely on the hunt for more (I've seen them in cobalt blue and black).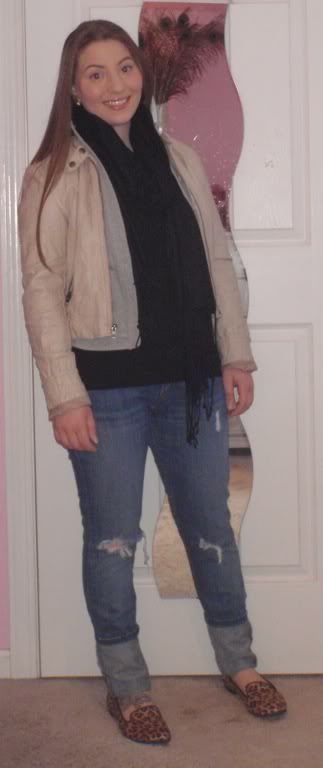 Day 2: IMATS & Dinner
When I was putting together outfits for IMATS I literally thought to myself "What Would Kandee Johnson Wear?" Inspired by her love for candy colors, cheetah print, and fun jewelry this is what I came up with. I love the mix of stripes and cheetah print. This bib necklace definitely added an element of edge, while mimicking the colors of my skirt.
As for my dinner dress, I've written previously about it that I love the casual material mixed with the fancy style of the dress. I added a statement necklace to amp up the glam!
Day 3: Shopping & New Jersey
Sunday was a really nice day, warm in the sun but still breezy. We went to a fab place for mexican brunch and did a little shopping. I ended up meeting my boyfriend in NJ, and we never made in back into the city for Monday.
Day 4: Traveling Home
If my boyfriend had taken me back into the city again I would've worn the outfit from day one. I would've skipped the jacket and cardigan because it was 80 degrees out. Since he drove down in his own car I wore my pj's on the ride back!
Do you think you could pack light?
xo Camille