I stole this plain white dress shirt from my boyfriend almost two years ago. And although I have worn it a few times "boyfriend style" it essentially just didn't work on me. So I reworked it to give it some girly style and attitude! This is how I did it: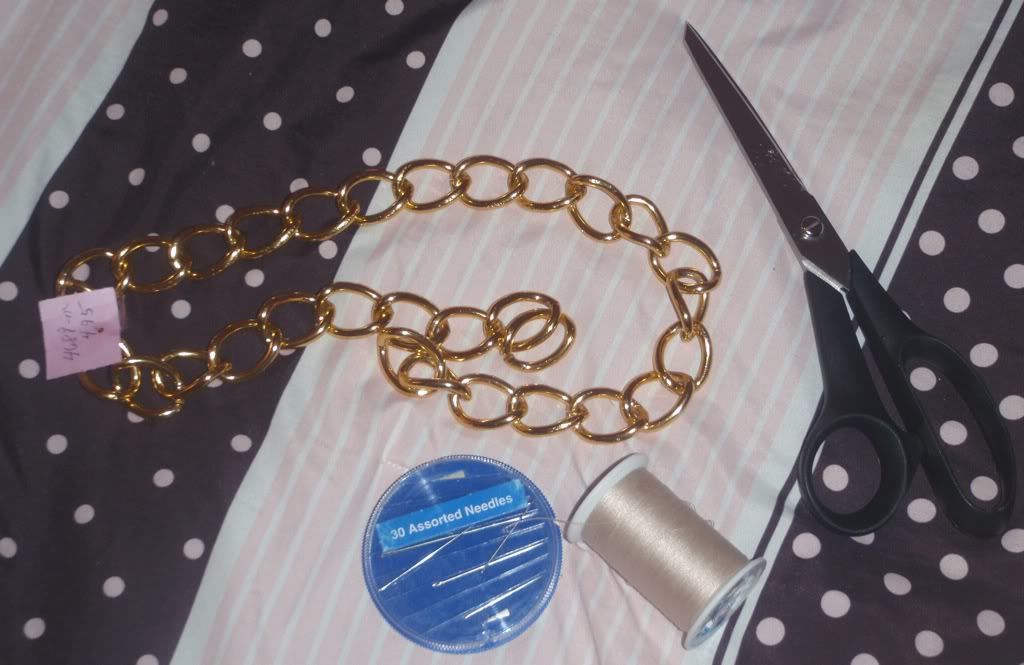 Supplies:
Fabric Scissors
Funky Chain (I picked mine up at a consignment shop, this only cost about $4 & I didn't even use it all)
Needle & Thread (Pick a color that matches the shirt. Mine is a tan, more on that later.)
OR
Sewing Machine
Stretchrite Elastic (This is optional, you will need a sewing machine)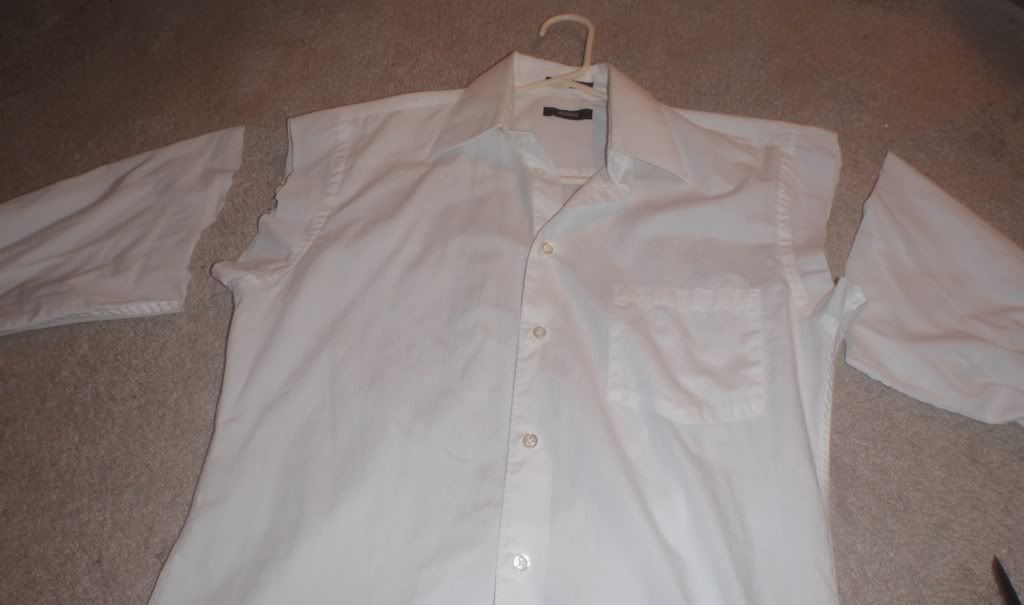 First I cut the sleeves off leaving about two inches from the seam,
I then went back and trimmed it down so that I was able to fold the fabric twice.
After I did that I should've pinned it all in place, but I'm a rebel so I free handed it. I also could've done this on a sewing machine but this was the only light colored thread I had so I did a blind stitch.
In the picture is what the arm hole looked like when I finished, I basically made the excess fabric as wide as the existing seam, then sewed it to that seam so it wouldn't show on the outside of the shirt.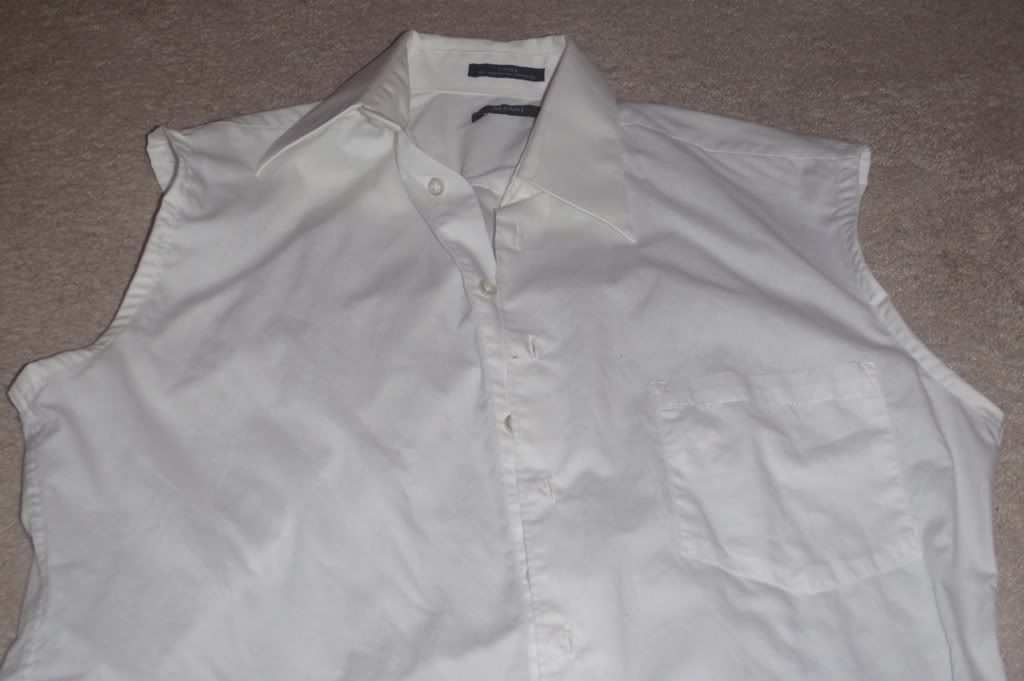 What the shirt looked like when I finished stitching the arm holes.
OPTIONAL (sewing machine required):
To make the sides ruche-d I took the elastic and sewed it on to the existing side seams.
You need a sewing machine to do this because as you sew it you stretch the elastic which in turn, creates the effect (it was then I found out the white thread was in the machine the whole time).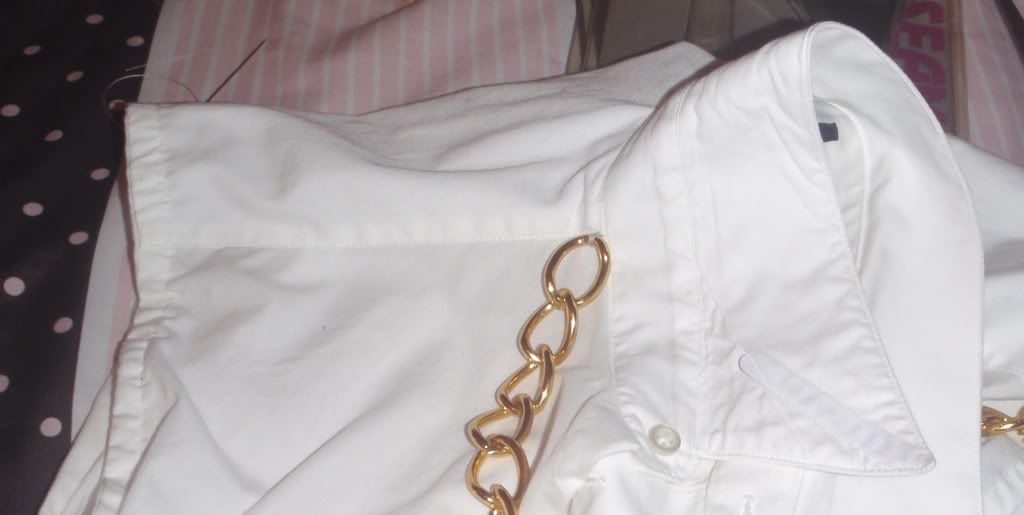 Lastly, I added chain detail to the shoulders. It took me awhile to figure out where exactly I wanted to place it but, the nice thing about this is that you can always detach it by ripping the stitch and changing it up! I also used the tan thread with this chain because I think it blends in best. With this large chain I used seven links on each side of the shirt.
Overall, this was a really fun little project. It took me about 2 hours sewing the armholes by hand, it would be much faster, of course, with a sewing machine! I love how the ruching on the sides opens the shirt in the front, a nice little detail. I love it paired with the red jeans and in the warmer months a bright top underneath and black shorts would work!
How would you wear it?
What would you Restyle?
xo Camille